Selecting the Properly Shaped Breast Implant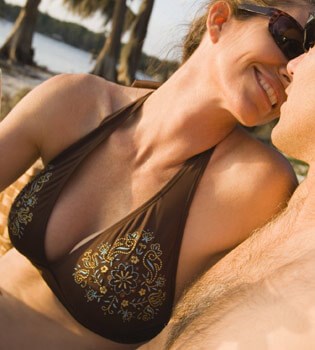 I read a recent manuscript written by my mentor, Dr. Brad Calobrace, regarding round breast implants. He made a couple of great points about breast augmentation, which I would like to share with you.
As of 2012, breast augmentation surgery continues to be one of the top two most commonly performed aesthetic surgical procedure in the United States.
Surgeons consider a multitude of factors when choosing the type and style of breast implants for a patient. With the continuous evolution of breast implant designs, there are a variety of breast implant options for plastic surgeons to choose from; however, round implants remain the implant of choice for breast augmentation.
Here are a few reasons why.
Thanks to the Food and Drug Administration in 2012 and 2013, shaped breast implants became available and are gaining popularity. There is one factor that shaped implants cannot address: Upper pole breast fullness. Although many women who undergo breast augmentation in Orange County may not say so, it's understood that there should be some fullness to the upper breast, which pear-shaped implants cannot provide.
There is an art and science to selecting implant size. No surgeon in his or her right mind would wait until surgery, then "guestimate." There are implant sizing systems and computer generated visualization software programs that help you and your plastic surgeon determine the best fit.
Another factor to consider by your surgeon is whether to select a smooth or textured implant. Both smooth and textured round implants provide unique benefits, and there may be some trade-off in selecting which to use.
After breast augmentation surgery, there are some differences in post-operative appearance and care.
Smooth implants can feel softer than textured implants initially, but textured implants will soften with modest movement after 4–6 weeks. Smooth implants initially sit high and require massage and occasional breast bands or bandeaus to "encourage" their final position, whereas textured devices are placed at the base of the breast and do not migrate as much. Thus, breast bands and downward massage are rarely, if ever, needed for textured devices.
The shaped implants are most useful in patients who are happy with their breast shape and are looking to augment their breast size without obvious upper pole fullness. To some, this gives a "more natural look."
Although there has been great interest in the shaped devices in the past few years, it is important to recognize that round implants have likewise evolved with the introduction of the smooth and textured round implants. Of course, a consultation with your Orange County Plastic Surgeon is the best means of determining which shape and construction is right for you.
Contact us today to learn more about what's right for you.